Product description
1. Product information
Standards:ASTM-B209. EN573-1, GB/T3880.1-2006
Packing: Export wooden pallets, craft paper, anti-blushing agent or as customer required
Quality of material: totally free from defects like white rust, oil patches, roll marks, edge damage, camber, dents, holes, break lines, scratches and free from coil set
Application:Aluminum sheet/coil mainly used insigns, billboards, roof, building exterior decoration, bus body, high-rise buildings and traffic signs,carriage,air conditioner,panel,aviation, factories wall decoration, kitchen sink, lamp, fan leaves, with pieces of electronic, chemical equipment, sheet metal processing parts, deep drawing or spinning hollowware, welding parts, heat exchangers, bell surface and disk, plate, kitchenware, decorations, reflective devices, construction material.boat deck, air plane, temperature preservation tube packaging anti-slip floor decoration, mould, oil tank ect.
| | | | |
| --- | --- | --- | --- |
| ALLOY | THICKNESS | WIDTH | TEMPER |
| A1050,A1060,A1070,A1100 | | 10MM~2500MM | O,H12,H22,H14,H16,H18, H24,H26,etc |
| A3003,A3105,A3004 | | 10MM~2500MM | O,H14,H18,H24,etc |
| A5052 ,A5005,A5083,A5754 | | 10MM~2500MM | O,H18,H24,H32,H34,H111,H112 ,etc |
| A6061,A6082,A6063 | | 10MM~2500MM | T4,T6, T651,O,etc |
| A8011 | | 10MM~2500MM | O,H12,H22,H14,H16,H18,H24,H26, etc |
ID: 75, 76, 150, 200, 300, 505mm etc or as costomers' requirment
MOQ:1~3TONS (According to specifications)
Delivery Time: Future Goods: 25-35 days, Ready stock: 7-10days

Kind attention: Specifications can be customized as the customer's requirements.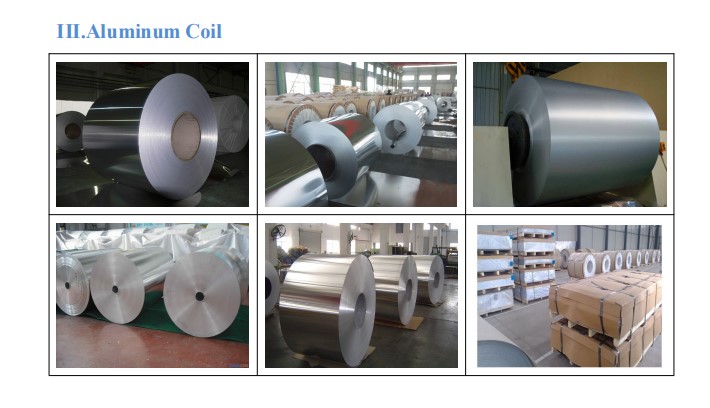 2. Certification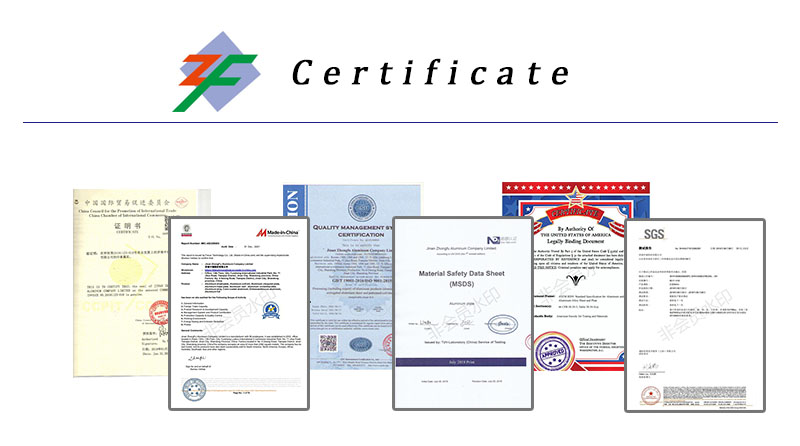 3. Production standard
as per international standard ASTM OR EN standard ,
all chemical composition ,mechanical property ,size tolerance ,flat tolerance ,
etc strictly as per ASTM OR EN standard
Company profile
Zhongfu aluminum company, founded in 2012, is a well-known enterprise in the industry with nearly 10 years of experience in the production and manufacturing of aluminum coil and aluminium plate, aluminum sheet, corrugated aluminum sheet, aluminium strip and aluminum foil. Relying on self-development and continuous technological progress, it has become a well-known enterprise in the industry.
Now, we have many years of experience in the aluminum field. As a well-known enterprise in the industry, our products have been a high-quality supplier of domestic government projects for 6 years.
Our employees have rich practical experience and professional knowledge, and can solve any problem for you at any time in the whole project cycle. From technology to production process, and then to delivery, Zhongfu company can always customize services for customers′ personalized needs!
We are an enterprise active in the aluminum market, with many office areas and processing areas in China.


Our global business and 10 years of experience enable us to provide customers with the best products and services based on practice and innovation.


We focus on our customers′ needs, and in particular, we can respond as quickly as possible to provide efficient and reliable assistance to help customers succeed in their business areas.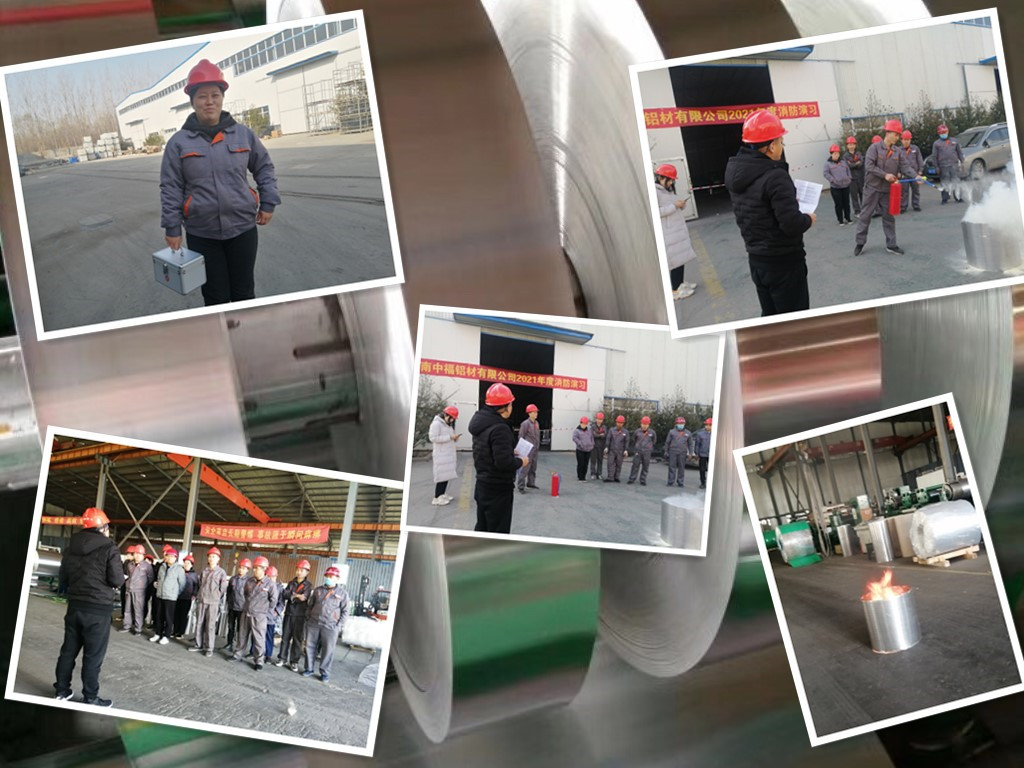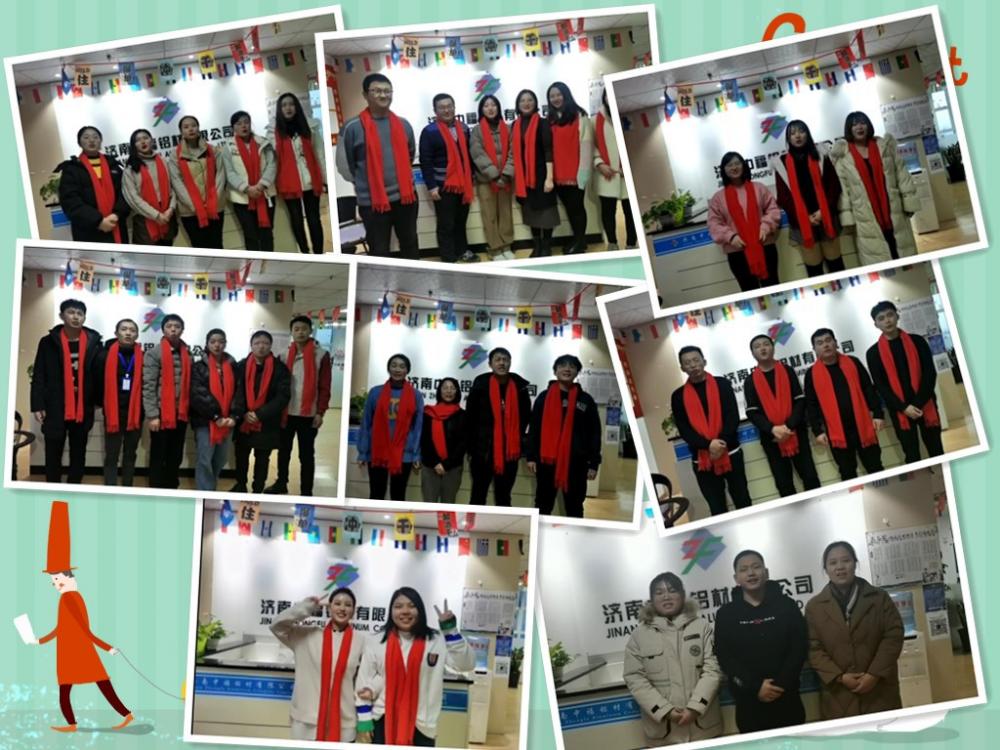 Packaging&shipping
Our advantages
1. Verified supplier :We have won the title of the top ten aluminum industry in China and also verified supplier, with quality assurance.
Production process is approved by sgs and Bv.
2. Price Competitive: factory cost price
3. Customized size:we can produce any size according to clients requirement .
We further provide clients with aluminium sheet /coil further process,such as anodizing ,brush ,polish ,
stucco emboss ,corrugation ,mirror ,color coating etc.
4. Product performance: Good strength high tensile, good corrosion resistance, good processability, light and soft, high temperature resistance.
5. Free samples available for test at first.
FAQ
Q: Are you trading company or manufacturer?
A: We are professional manufacturer for many years. We can provide a wide range of aluminum products and price is very competitive.


Q: What is your terms of payment ?
A: Normally 30% TT in advance, balance paid before shipment.


Q: Do you provide samples? is it for free?
A: The samples can be provide for free with customer, but the freight will be covered by customer.


Q: How could you guarantee your products?
A: We have quality certification and have won the top ten aluminum industry awards in China.
We have been running a factory for many years, our businee is based on honesty, and each piece of product is tested.


Q: Is sample order accepted?
A: Yes,we accept sample order and we can provide design service!


Q: How can I get your quotation as soon as posibble?
A: Please send inquiry in the message box at the bottom of the product page,we will contact you as soon as possible.
The email will be checked within 24 hours.

WELCOME CONTACT US !