Gantry Type H - beam Welding Machine
Gantry Type H-beam Welding Machine Structural Principles:
1)H-beam steel placed on H-beam support frame with 45°,which is suitable for boat position and then to weld.
2)H-beam Gantry Welding Machine walks on rails at adjusted welding speed.
3)Use SAW welding to weld two seams at the same time.
4)The welding seam tracking wheels press the H beam.
5) Flux automatic feed and recovery the H beam welded seam.

The H beam gantry welding machine is formed by two walking beams, two elevating arms and the upper platform. Each of walking beams is driven by a AC motor reducer, forming a double-drive system, which makes the operation smooth and reliable. On the front of the platform, there are rails and racks, and they can be used to make the welding arms and tool carriages move. And two sets of wire and flux recovery machines can be put on the platform.
Welding arm is the most important part for welding work, it can move horizontally on cross beam together with tool carriage, also can move up and down on directional wheel of the tool carriage .
Seam tracking device is placed at the head of the welding arm, it has the function of automatic tracking, which can keep suitable distance between welding gun and welding seam, it has auto compensation function for H-beam's deformation .
Wire feeding device is fixed in arc-guiding device, it can connect wire feeder and wire reel together by wire feeding pipe.
Wire reel supporter is used for fixing wire reel, place wire reel into the supporter before welding, then make wire thrill through feeding pipe and connect it to feeding machine.
Flux recovery system is composed of flux recovery machine, flux cylinder, flux bucket, flux feeding pipe, flux recovery pipe and so on. They work together to realize automation of flux feeding and recovery process.
Electrical control system is fixed in upright column. While operation panel is on electrical control box's panel. The electrical control system control movement of trolley, up-down of welding arm, start and stop of SAW welding power, start and stop of flux recovery machine and so on. The movement of trolley is frequency speed adjust controlled, the welding speed can be adjusted according to welding technology requirement.
SAW welding power is an important part for welding H beam; we usually equip Zhouxiang MZ-1250 with this H beam gantry welding machine, also can equip American Lincoln DC-1000 or SAW welding power of other brands.

Gantry Type H-beam Welding Machine Technical parameters:
| | | |
| --- | --- | --- |
| Model | LMH-4000 | LMH-5000 |
| Gauge of gantry frame | 4000 mm | 5000 mm |
| Welding way | boat-type welding | boat-type welding |
| Web height of H beam | 200-1500 mm | 200-1800 mm |
| Flange width of H beam | 200-800 mm | 200-800 mm |
| Welding speed of H beam | 0.25-1.5 m/min | 0.25-1.5 m/min |
| Return speed | 3 m/min | 3 m/min |
| Gantry frame motor power | 3.3-3.6KW | 3.3-3.6KW |
| Flux recovery power | 3KW*2 | 3KW*2 |
Gantry H-beam Welding Machine General Assembling Drawing: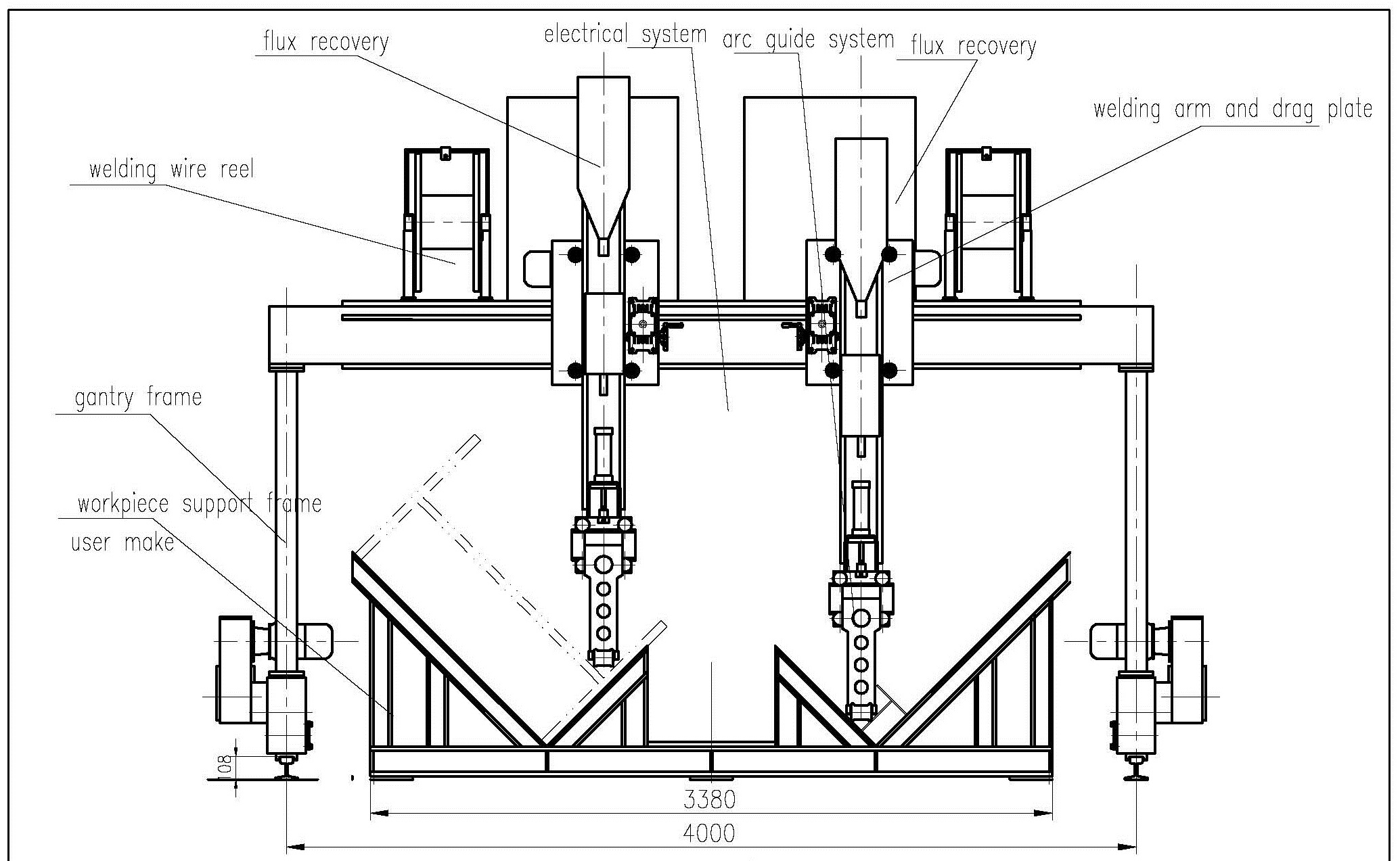 Gantry Type H-beam Welding Machine Supply Range:
a. Gantry frame: upper platform, moving beam, vertical column
b. Welding arm and tool carriage: 2 sets of welding arm, 2 sets of tool carriage
c. Welding seam tracing device: 2 sets of arc-guiding frame, wire feeder, cross slide plates, and cylinders
d. Welding flux recovery system: 2 sets of welding flux recovery machines, welding flux buckets, welding flux recovery cylinders, conveying tubes
e. Electric controlling assembly: electric controlling box, controlling box, converter.
f. Submerged arc welding power:
Option 1: Zhouxiang submerged arc welder MZ-1250*2 sets
Option 2: Lincoln submerged arc welder DC-1000*2 sets
H beam Gantry Welding Machine Details:
Two welding arms can weld two H-beam at the same time: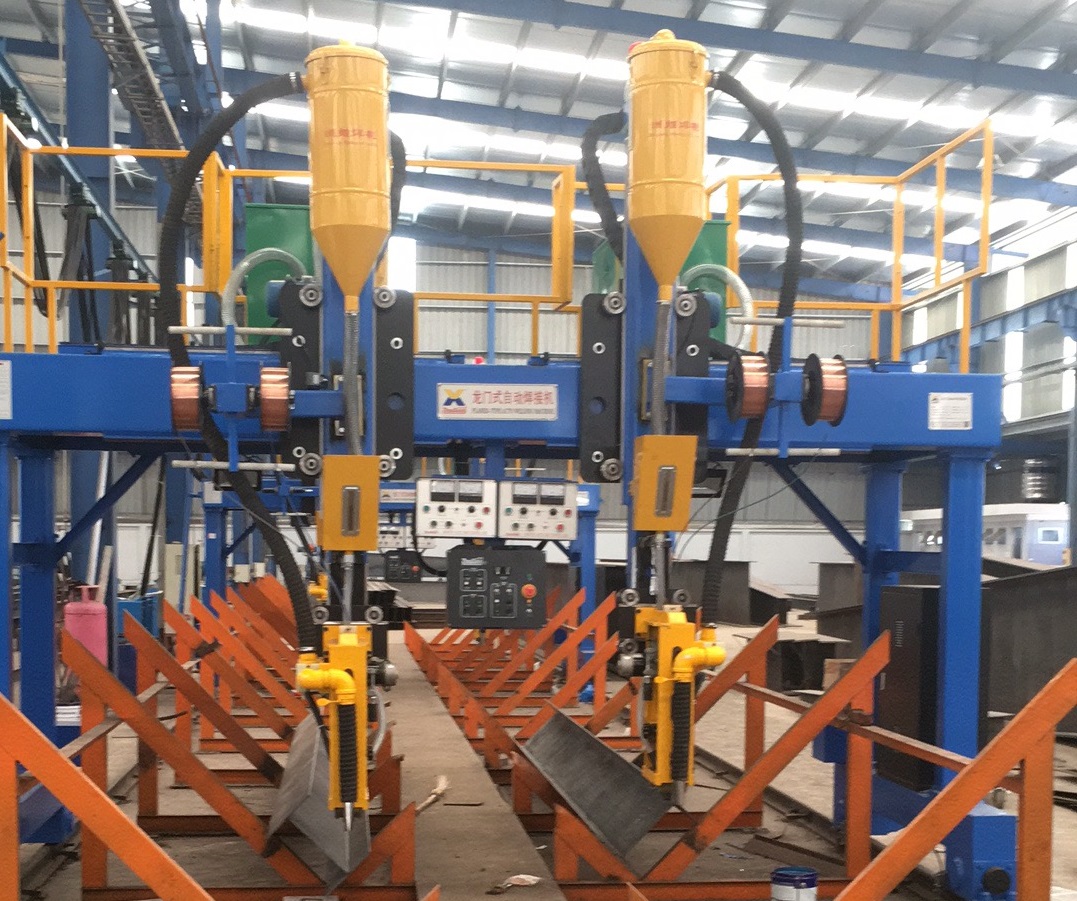 Welding head can also use 2 arc 2 wire type, which is suitable for thick plate welding: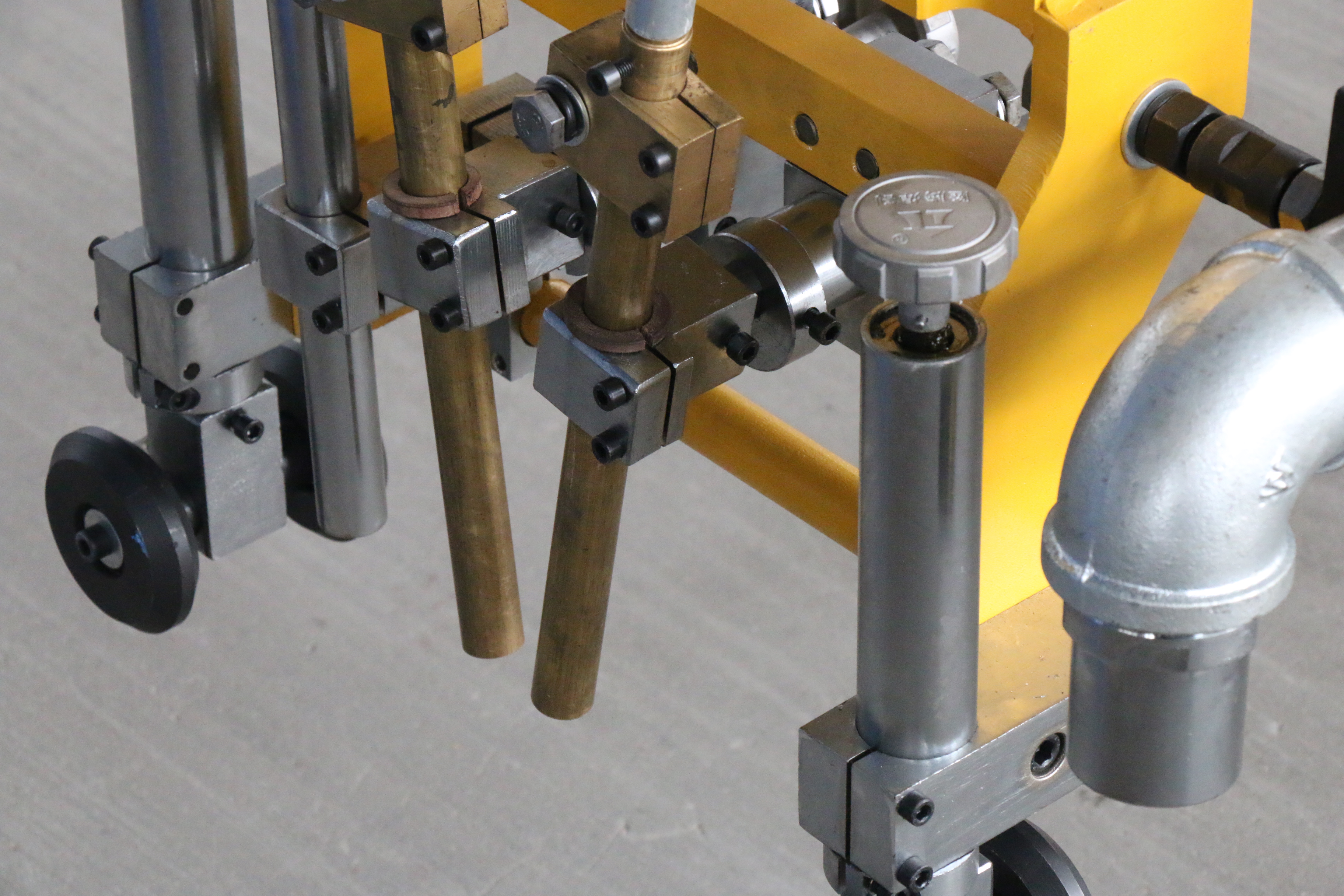 One worker can operate the machine easily by control box in center: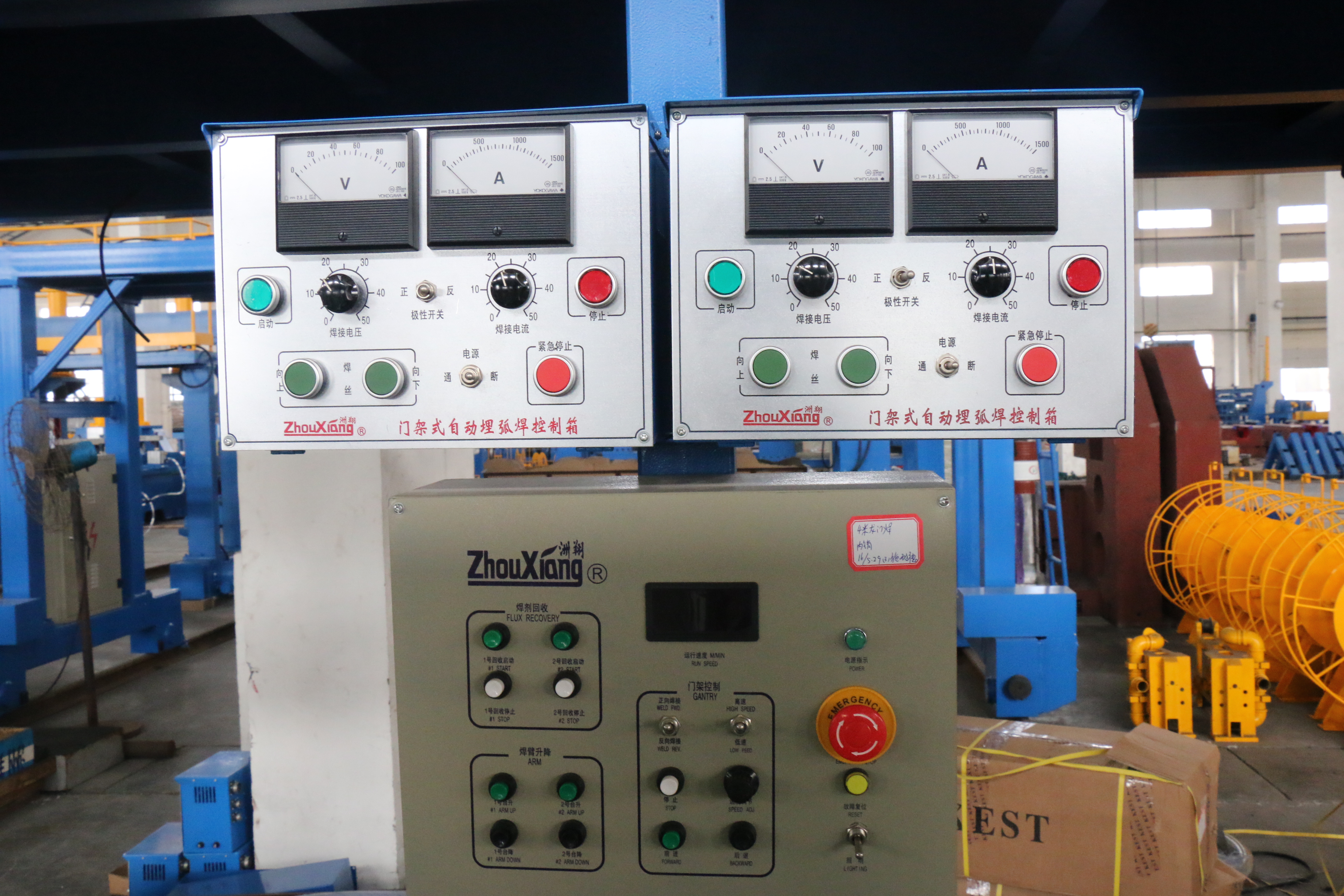 We use good brand components mainly Schneider in electrical cabinet: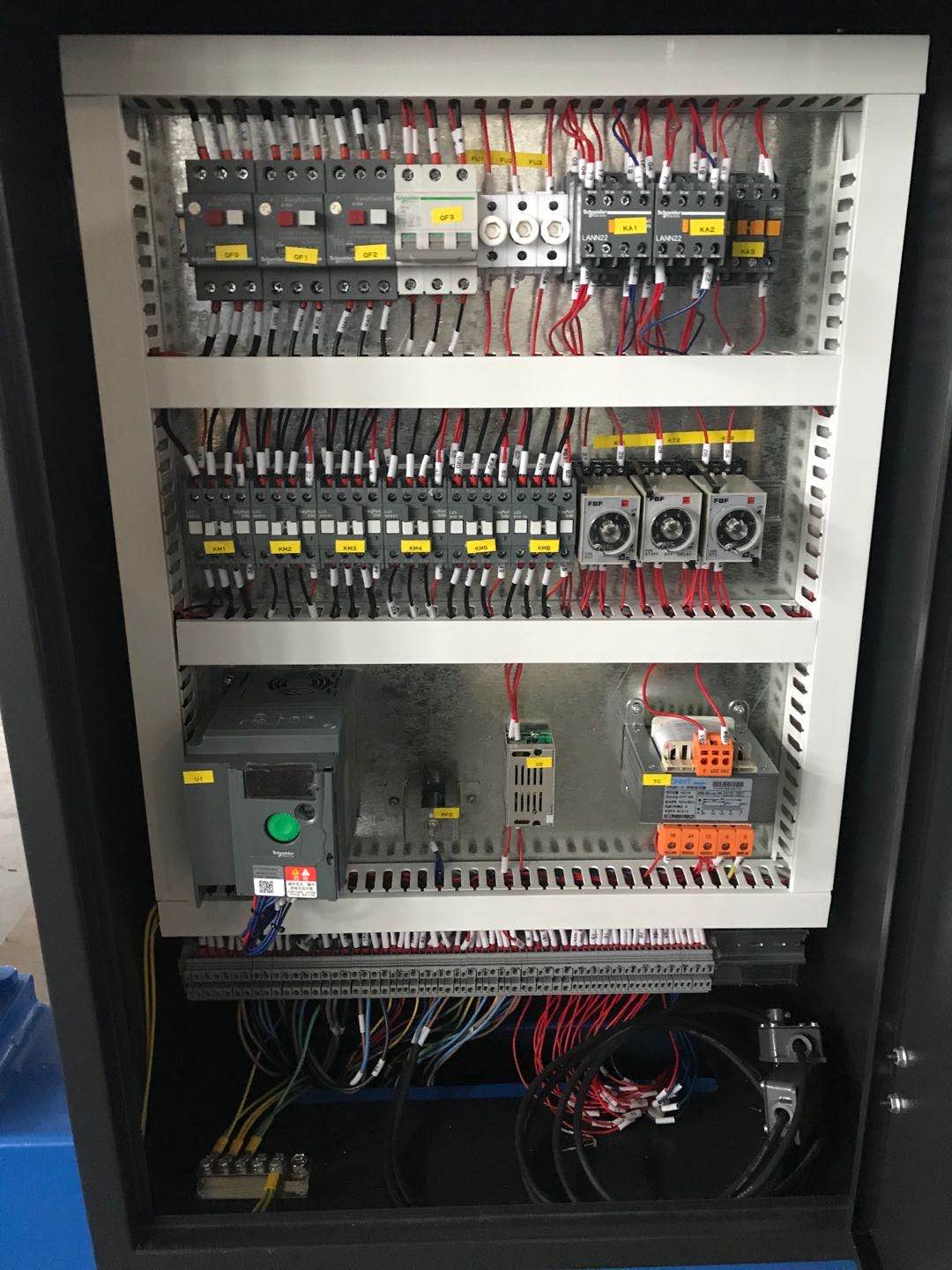 How to weld H-beams with web thickness over 16 mm?
Welding the thick web plate firmly requires a large welding current. The welded pool is large and deep. The molten steel in the molten pool needs to be cooled and formed in a horizontal state. Therefore, it is necessary to turn the H-beam 45° so that the molten pool during welding is in a horizontal position.
What is the submerged arc welding (SAW) ?
SAW---Submerged arc welding is a welding method in which the arc burns under the flux layer. Submerged arc welding relies on flux as protection to prevent oxidation. When the coating is separated from the electrode, the coating will automatically bury the weld to prevent oxidation during welding.
The advantages of stable welding quality, high welding productivity, no arc light and little smoke, etc., have become the main welding method in the production of important steel structures such as pressure vessels, pipe section manufacturing, box beams and columns.